How to connect Existing Headsets to a Desk Phone and Computer for Return To Office and Hybrid Work 
Many companies deployed cloud-based communications platforms like Microsoft Teams and Zoom during the pandemic. USB headset demand and purchases skyrocketed now that employees use their computers to make and take voice and video calls. Some organizations have elected to return to the office or adopt a hybrid work model. The challenge is that the headsets employees use in their home offices may not be compatible with the desk phones in the office, or desk phone only headsets will now need to connect to computers.  
Consumer USB headsets typically do not have options to support connectivity to a business desk phone. Fortunately, there are options to connect existing business-grade USB headsets from brands like Poly and Jabra to desk phones and computers. Some devices enable desk phone only headsets to connect to a computer.  
Here are some available solutions. Contact a subject matter expert like Call One, Inc. for help with compatibility and more information.  
Solutions to connect USB headsets to desk phones and computers
Jabra Link 950 for USB-A or USB-C Headsets
The Jabra Link 950 enables you to use a compatible Jabra USB headset, either with just your desk phone or with your desk phone and softphone. Choose from Jabra's wide range of corded and wireless USB headsets, and look for Bluetooth functionality if you also want the headset to connect to a mobile phone. Check if your Jabra headset is compatible here: jabra.com/help/link950/compatibility. 
Resources:
Poly MDA220 USB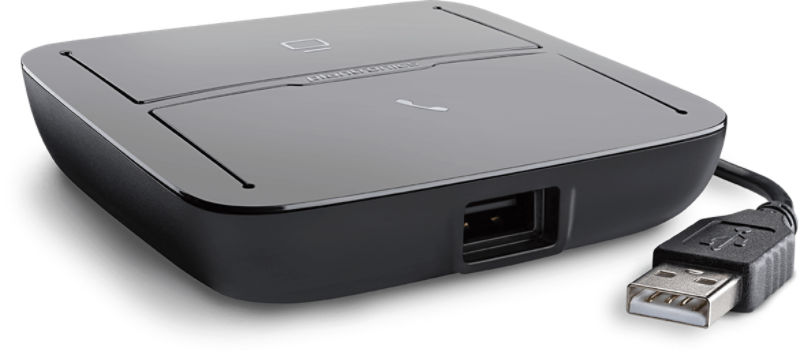 The Poly MDA220 USB allows you to connect to PCs, Macs, desk phones, Poly USB headsets, and devices (corded, wireless, Bluetooth). As of writing this blog, here are the compatible Poly USB devices: Blackwire Family Voyager Family when used with a BT600. Audio 615 and 630M Savi 400 Series EncorePro USB Series Bluetooth USB Adapter BT600, BT300 Entera USB (HW111N, HW121N) DA70, DA80, DA90. Not compatible with Savi 8200 Office and UC Series. 
Resources:
Solutions to connect Jabra and Poly QD headsets to desk phones and computers 
Jabra Link 860 
The Jabra Link 860 is a flexible audio processor with dual connectivity to desk phones and softphones straight out of the box. With easy-to-reach buttons for mute, volume, and switching calls between desk phone and softphone, the Jabra Link 860 includes audio streaming: call recording, agent greeting, and transcribing.
Resources
Poly MDA500 QD Series 
The Poly MDA500 QD Series includes four models: MDA524 QD USB-A, MDA526 QD USB-A, MDA524 QD USB-C, and MDA526 QD USB-C. The MDA500 QD Series allows you to connect Plantronics standard QD and digital QD headsets and Y-Training cables.
Resources:
Poly MDA100 QD Series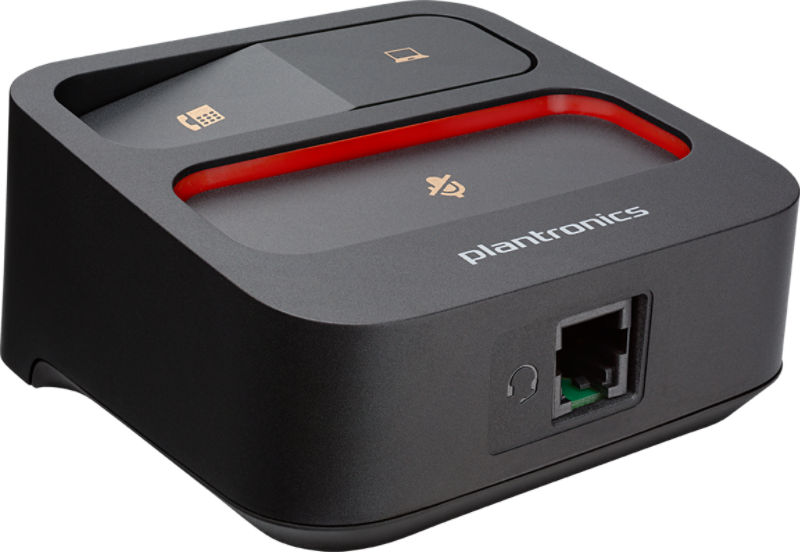 The Poly MDA100 QD Series is a lower-cost option to connect existing Plantronics QD headsets to desk phones and computers. There are two models: MDA100 QD and MDA105 QD.
The MDA105 QD includes a volume control feature.
Resources:
Solutions to connect modular headsets to computers and desk phones
ZoomSwitch ZMS10-C / ZMS20-UC 
The ZoomSwitch has been around for several years and was the original option to help organizations transition to computer-based telephony. The ZoomSwitch is still an outstanding solution as it supports DECT wireless headsets, wired modular headsets, or handsets to connect to a desk phone and computer.
Resources:
Connect with a Subject Matter Expert
It's always best to contact a subject matter expert to discuss headset solutions for return to the office and hybrid work. We completely understand the need for immediate solutions; however, organizations should be moving towards developing new device standards that support new ways of working. Poly, Jabra, EPOS, JPL, Logitech, Yealink, and others have multi-connectivity wireless headsets, Active Noise Cancelling Headset Solutions, and Corded USB headsets that align with the different workstyles and workspaces of today's workforce.
https://calloneinc.com/wp-content/uploads/2022/07/Call-One-blog-connect-Existing-Headsets-to-a-Desk-Phone-and-Computer-.jpg
310
850
Danny Hayasaka
https://calloneinc.wpengine.com/wp-content/uploads/2019/03/logo.png
Danny Hayasaka
2022-07-29 14:51:37
2022-07-29 14:51:44
How to connect Existing Headsets to a Desk Phone and Computer for Return To Office and Hybrid Work